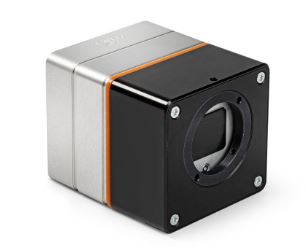 Xenics has released their new high-performance LWIR cameras, the Ceres V 640 and Ceres V 1280! The Ceres V family complements the previously introduced
Ceres T family expanding the possible options for thermal imaging and thermographic applications.
Ceres V is a LWIR camera family dedicated to industrial vision applications with very high stability performances. With the Ceres V family, Xenics is expanding its high-performance LWIR camera offering toward industrial implementations such as process monitoring, industrial machine vision and medical applications. These high-performance cameras also fit scientific uses.
The Ceres T family already solved a major issue for thermographic system implementations by providing a stable and highly repeatable measurement solution. Xenics now offer these high performances to all industrial and vision applications, which is the purpose of Ceres V. Moreover, Xenics offers a full LWIR industrial camera with SXGA resolution (1280x1024 pixels). Industrial customers will thus benefit from the high stability developed for the Ceres concept with the flexibility of interchangeable optics and access to high resolution for enhanced capabilities.
Customers will be able to change optics according to their needs among 5 Horizontal Field of View (HFoV) possibilities: 12°, 16°, 25°, 48° or 71°. Xenics' user-friendly Xeneth GUI and its GenICam SDK complete the offer so that customers can spare time in integrating the camera and really focus on their added values: data analysis and process monitoring.
Check out our Xenics Ceres V 640 and Ceres V 1280 product pages for more information and to read the full press release!