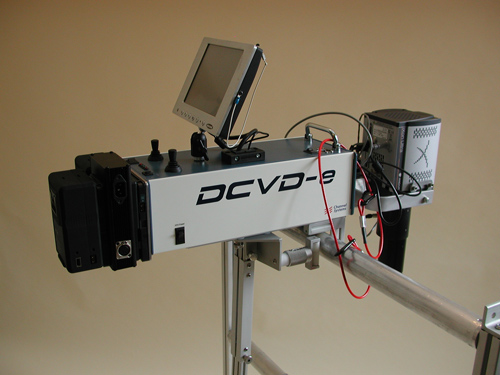 The Digital Cerenkov Viewing Device (DCVD) is the newest generation of imaging devices for non-intrusive inspection and verification of spent nuclear fuel. It is designed to view and record measurements of the Cerenkov light produced by fuel assemblies that are stored in water ponds. The DCVD uses a very sensitive detector designed to measure the ultra-violet portion of Cerenkov light. This instrument is only sensitive to the 295-340 nm region of the spectrum, which allows it to be used under normal ambient light conditions.

The innovative features of the DCVD make it a valuable alternative to other verification measures. In particular, the real-time display and capture of digital images for analysis and comparison make this powerful instrument simple and highly effective. The system uses a high-resolution, low-light sensor capable of video rates of 14 fps or more and features an innovative support for rock-steady imaging.
The system is self-contained and runs up to 3 hours on a single battery charge. Batteries can be hot-swapped allowing indefinite runtimes.