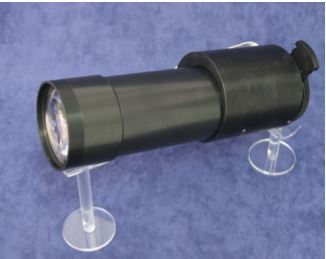 The UV Zoom Lens custom designed by Channel Systems Inc provides a versatile solution for telephoto UV imaging!
With a motorized zoom and focus as well as a high light throughput, this lens is ideal for both hand held and remote applications.
The lens features a two position filter holder allow the user to use the lens in UV mode or full visible spectrum mode. The filters can also be tailored for specific user requirements.
UV Zoom Lens Technical Specifications

| Focal Length | 80-200mm |
| --- | --- |
| Aperture | f/3.2 |
| Object distance | 3m to infinity |
| Field of view | @13m, 0.7m - 1.75m |
| Wavelength range | Filter 1: 270-350, Filter 2: 350-700nm |
| Length | 250mm |
| Focus and zoom | Motorized |
| Weight | 1235g |
| Operating temp | 10 - 55°C |