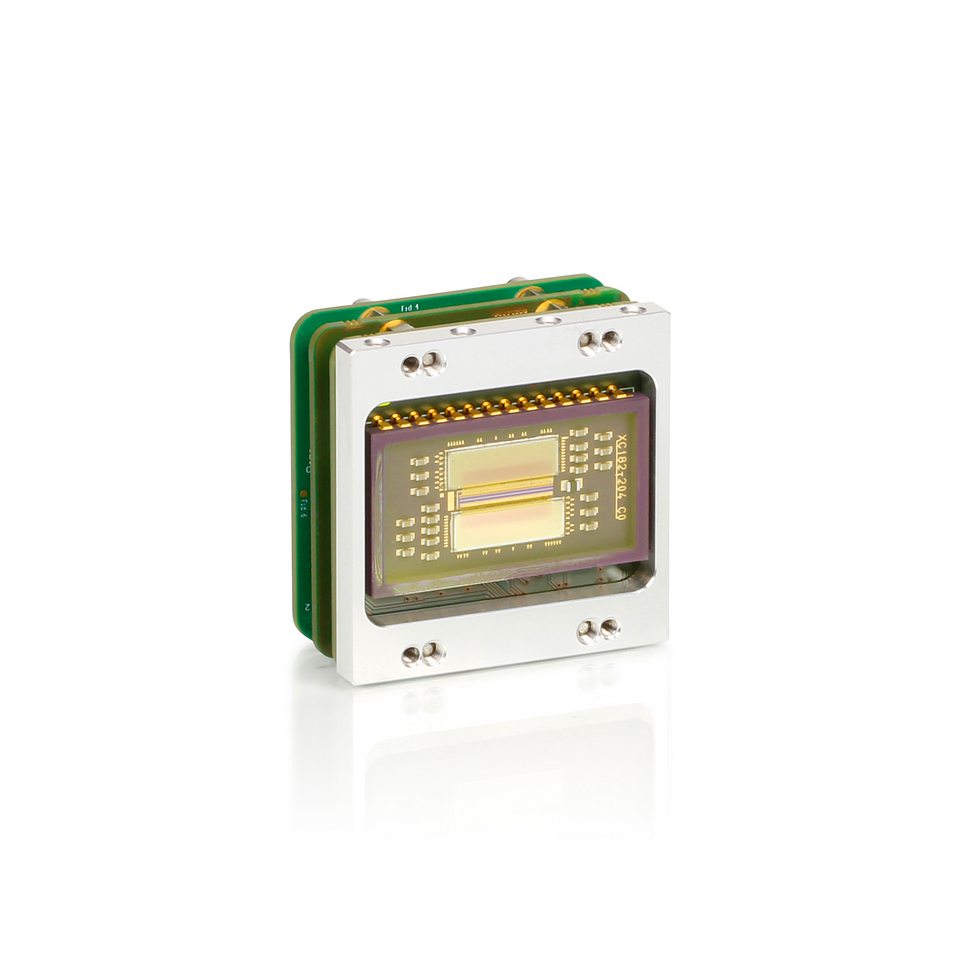 The XSL square (SQ) series, based on an in-house developed linear detector, offer affordable SWIR linescan images.
This SWIR linear detector features an in-house developed InGaAs sensor with 512, 1024 and 2048 resolution options .
The XSL SQ camera modules are able to image line rates up to 40 kHz and comes with an industry-standard CameraLink, GigE Vision or QTE Samtec interface.
Xenics XSL Series Technical Specifications

| Camera Model | XSL 512 | XSL 1024 | XSL 2048 |
| --- | --- | --- | --- |
| Array type | InGaAs photodiode with CTIA ROIC | InGaAs photodiode with CTIA ROIC | InGaAs photodiode with CTIA ROIC |
| Spectral band | 0.9 µm to 1.7 µm | 0.9 µm to 1.7 µm | 0.9 µm to 1.7 µm |
| Sensor format (pixels) | 512 | 1024 | 2048 |
| Pixel pitch (µm) | 25 | 12.5 | 12.5 |
| Pixel height (µm) | 25 | R: 250, SQ: 12.5 | R: 250, SQ: 12.5 |
| Pixel operability | > 99.6% | > 99% | > 98% |
| Optical interface (optional) | M42, C-mount or F-mount | M42, C-mount or F-mount | M42, C-mount or F-mount |
| Quantum efficiency | ~80% (typical peak value) | ~80% (typical peak value) | ~80% (typical peak value) |
| Max line rate (kHz) | 40 | 40 | 10 |
| Integration type | Snapshot - global shutter | Snapshot - global shutter | Snapshot - global shutter |
| Command and Control | CameraLink, GigE Vision, or QTE Samtec | CameraLink, GigE Vision, or QTE Samtec | CameraLink, GigE Vision, or QTE Samtec |
| Digital output format | CameraLink or GigE Vision (16 bit), Digital Video (16 bit) | CameraLink or GigE Vision (16 bit), Digital Video (16 bit) | CameraLink or GigE Vision (16 bit), Digital Video (16 bit) |
| A to D conversion resolution | 14 bit | 14 bit | 14 bit |
| Connector GigE | RJ-45 | RJ-45 | RJ-45 |
| Connector CameraLink | Standard SDR | Standard SDR | Standard SDR |
| Connector Power | Hirose HR10-7R-SA[73] | Hirose HR10-7R-SA[73] | Hirose HR10-7R-SA[73] |
| Connector Trigger | SMA (CL, GigE) | SMA (CL, GigE) | SMA (CL, GigE) |
| Connector General I/O | QTE-20-02-L-D-A-Samtec (16bitDV) | QTE-20-02-L-D-A-Samtec (16bitDV) | QTE-20-02-L-D-A-Samtec (16bitDV) |
| Power consumption | 2.6 (CL), 4.6 (GigE), 2.3 (16bitDV) Watt | 2.6 (CL), 4.6 (GigE), 2.3 (16bitDV) Watt | 2.6 (CL), 4.6 (GigE), 2.3 (16bitDV) Watt |
| Power supply voltage | DC 12 V (CL, GigE), DC 3.3 V (16bitDV) | DC 12 V (CL, GigE), DC 3.3 V (16bitDV) | DC 12 V (CL, GigE), DC 3.3 V (16bitDV) |
| Ambient operating temperature | -40 to 70°C | -40 to 70°C | -40 to 70°C |
| Dimensions (mm) | 45 x 45 x 37 (CL), 45 x 45 x 55 (GigE), 45 x 45 x 28 (16bitDV) | 45 x 45 x 37 (CL), 45 x 45 x 55 (GigE), 45 x 45 x 28 (16bitDV) | 45 x 45 x 37 (CL), 45 x 45 x 55 (GigE), 45 x 45 x 28 (16bitDV) |
| Weight (g) | 55 (CL), 96 (GigE), 43 (16bitDV) | 55 (CL), 96 (GigE), 43 (16bitDV) | 55 (CL), 96 (GigE), 43 (16bitDV) |
| Trigger | In or out via SMA [configurable], additional CC1 available for CL (CL, GigE), In or out via QTE Samtec [configurable] (16bitDV) | In or out via SMA [configurable], additional CC1 available for CL (CL, GigE), In or out via QTE Samtec [configurable] (16bitDV) | In or out via SMA [configurable], additional CC1 available for CL (CL, GigE), In or out via QTE Samtec [configurable] (16bitDV) |