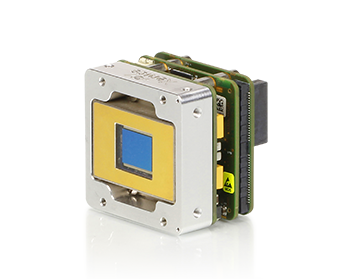 Xenics' XSW-640 OEM module is extremely compact and versatile for easy and swift integration in your SWIR imaging configuration.
Typical OEM applications include infrared imaging for man–portable and unmanned (airborne and land-based) vehicle payloads, night vision, border security, Search & Rescue (SAR) and more.
The XSW-640 OEM module detects short wave infrared radiation between 0.9 (optionally 0.4) and 1.7 μm with a wide dynamic range and wide operating temperature.
The Thermo Electric (TE) stabilization reduces the dark current and noise levels. Together with on-board image processing you will have best contrast and high image quality.
| Camera Model | XSW-640-Samtec | XSW-640-CL | XSW-640 GigE |
| --- | --- | --- | --- |
| Detector type | InGaAs Focal Plane Arra (FPA) ROIC with CTIA topology | InGaAs Focal Plane Arra (FPA) ROIC with CTIA topology | InGaAs Focal Plane Arra (FPA) ROIC with CTIA topology |
| Spectral range | 0.9 μm to 1.7 μm (VisNIR optional 0.4 to 1.7 μm) | 0.9 μm to 1.7 μm (VisNIR optional 0.4 to 1.7 μm) | 0.9 μm to 1.7 μm (VisNIR optional 0.4 to 1.7 μm) |
| Image format | 640 (w) x 512 (h) pixels | 640 (w) x 512 (h) pixels | 640 (w) x 512 (h) pixels |
| Pixel pitch | 20 μm | 20 μm | 20 μm |
| Readout mode | Integrate Then Read (ITR), Integrate While Read (IWR) | Integrate Then Read (ITR), Integrate While Read (IWR) | Integrate Then Read (ITR), Integrate While Read (IWR) |
| Quantum efficiency | 80% @ 1.6 μm (SWIR), 85% @ 0.9 μm (VNIR) | 80% @ 1.6 μm (SWIR), 85% @ 0.9 μm (VNIR) | 80% @ 1.6 μm (SWIR), 85% @ 0.9 μm (VNIR) |
| ROIC noise | High gain: 60 e-, Low gain: 400 e- | High gain: 60 e-, Low gain: 400 e- | High gain: 60 e-, Low gain: 400 e- |
| Sensitivity | High gain: 20 μV/e-; Low gain: 1.6 μV/e- | High gain: 20 μV/e-; Low gain: 1.6 μV/e- | High gain: 20 μV/e-; Low gain: 1.6 μV/e- |
| Dark current | 0.8 x 10⁶e-/s | 0.8 x 10⁶e-/s | 0.8 x 10⁶e-/s |
| Integration capacitor | High gain: 6.7 fF, Low gain: 85 fF | High gain: 6.7 fF, Low gain: 85 fF | High gain: 6.7 fF, Low gain: 85 fF |
| Array cooling | TE1-stabilized | TE1-stabilized | TE1-stabilized |
| Pixel operability | > 99% | > 99% | > 99% |
| Focal length | Broad selection of lenses available | Broad selection of lenses available | Broad selection of lenses available |
| Optical interface | Fixation holes for multiple lens mounts | Fixation holes for multiple lens mounts | Fixation holes for multiple lens mounts |
| Maximum frame rate (full frame) | 100 Hz | 100 Hz | 100 Hz |
| Min region size | Minimum size 32 x 4 | Minimum size 32 x 4 | Minimum size 32 x 4 |
| Integration time range | 1 μs - 40 ms | 1 μs - 40 ms | 1 μs - 40 ms |
| Noise level | High gain: 120 e-, Low gain: 400 e- | High gain: 120 e-, Low gain: 400 e- | High gain: 120 e-, Low gain: 400 e- |
| Gain level | High gain: 1.28 e-/ADU, Low gain: 16.2 e-/ADU | High gain: 1.28 e-/ADU, Low gain: 16.2 e-/ADU | High gain: 1.28 e-/ADU, Low gain: 16.2 e-/ADU |
| On-board image processing | Image correction (TrueNUC for high and low gain), Auto-Gain and offset, Auto-Exposure, Histogram-Equilization, Trigger Possibilities | Image correction (TrueNUC for high and low gain), Auto-Gain and offset, Auto-Exposure, Histogram-Equilization, Trigger Possibilities | Up to 4 NUCs, Auto-Gain, Trigger Possibilities |
| Analog-to-Digital (ADC) | 14 bits | 14 bits | 14 bits |
| Digital output format | BT.601-6/BT .656-5 | CameraLink or Xeneth API/SDK | GigE Vision or Xeneth API/SDK |
| Module control | Serial LVCMOS 3 V (XSP) | CameraLink | GigE Vision |
| Trigger | Trigger in or out (configurable) | Trigger in or out (configurable) | Trigger in or out (configurable) |
| Power consumption | +/- 2.6 W | 2.8 W | 4 W |
| Power supply | DV 12 V | DV 12 V | DV 12 V |
| Shock | 40 g, 11 ms according to MIL-STD810G/MIL-STD883J | 40 g, 11 ms according to MIL-STD810G/MIL-STD883J | 40 g, 11 ms according to MIL-STD810G/MIL-STD883J |
| Vibration | 5 g (20 Hz to 2000 Hz) according to MIL-STD810G/MIL-STD883J | 5 g (20 Hz to 2000 Hz) according to MIL-STD810G/MIL-STD883J | 5 g (20 Hz to 2000 Hz) according to MIL-STD810G/MIL-STD883J |
| Operating case temperature | -40ºC to 70ºC | -40ºC to 70ºC | -40ºC to 70ºC |
| Storage temperature range | -40ºC to 85ºC | -40ºC to 85ºC | -40ºC to 85ºC |
| Dimensions (width x height x length) - excluding lens | 45 x 45 x 51 mm | 45 x 45 x 55 mm | 45 x 45 x 65 mm |
| Weight module | 120 g | 129 g | 165 g |