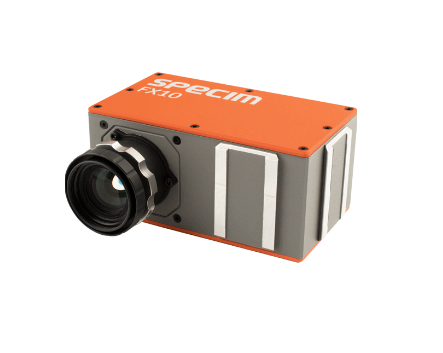 Specim's award winning FX10 is a small, fast & affordable hyperspectral camera specifically designed for industrial machine vision.
FLEXIBILITY: Free wavelength selection from 220 bands within the camera coverage
SMALL SIZE: Much smaller footprint than traditional hyperspectral cameras
FAST OPTICS: High sensitivity enables good signal with short integration times, high signal to noise ratio enables better detection accuracy on high speeds
HIGH SPEEDS: More frames per second than you will ever need! Full range (224 bands) = 330 fps, three specific regions selected (5 bands) = 6510 fps
PLUG 'N' PLAY: Every Specim FX10 unit gives identical results!
INTEGRATION: Aquisition software and SDK: LUMO Toolkit, CameraLink or GigE Vision camera interface options
Multiple lens mounting options!
| Spectral Camera | FX10 |
| --- | --- |
| Spectral Range | 400-1000 nm |
| Spectral Bands | 224 |
| Spectral FWHM | 5.5 nm |
| Spatial Sampling | 1024 pixels |
| Frame Rate | 330 fps (full frame), up to 9900 fps with 1 band selected |
| FOV | 38 ̊ |
| F-number | F/1.7 |
| Camera SNR (Peak) | 600:1 |
| Camera Interface | CameraLink or GigE Vision |
| Dimensions | 150 x 85 x 71 mm |
| Weight | 1.26 kg |